Micro Markets provide your employees with the product variety of a market and the convenience of kiosk self-checkout. Instead of choosing from a limited number of products in a vending machine, employees can browse hundreds of products in an open area. The store-style set up allows for a much larger selection of beverages, snacks, meals, and healthy food options.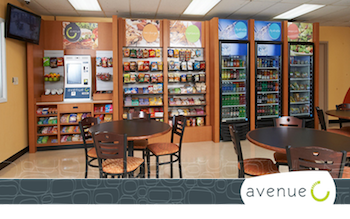 With Micro Markets, employees can grab a quick pick-me-up-snack, or a fresh salad and sandwich for lunch, without ever leaving the facility. Without the barrier between consumer and product, employees can view nutrition info and product details before making their purchase.
Micro Markets make paying easy with advanced self-checkout kiosks. Simply pick the items you want, scan them at the kiosk, and pay with one quick transaction. With multiple payment options, you'll never have to worry about having cash or correct change, and paying with your debit or credit card is both easy and secure.
Each Micro Market is customized to meet the wants and needs of your company. We are ready to work with you to find the best layout and design for your facility.